Hi loves.
Earlier this week I decided to purchase a pair of glasses off of
http://clearlycontacts.ca
. It's a Canadian based company in Vancouver that sells eyeglasses and contact lenses as well as solutions and eye related accessories. The company's goal is to quickly deliver quality eyewear and to offer a range of selection.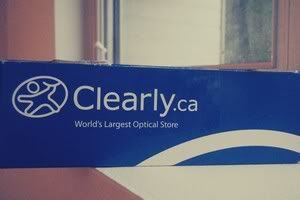 I ordered the Joseph Marc 4107 in Black. I was surprised by the speedy arrival as I ordered them late at night on July 2nd and they were shipped out on July 3rd and I received them two days later on July 5th. This is amazingly fast as I live on the other side of the country. Once I opened the package I was surprised to find a nice black eyeglass case as well as a pouch with eyeglass cleaner, a cloth and a frame repair kit ; things that I already own being an eyeglass wearer but for the price I paid it's an absolute bargain!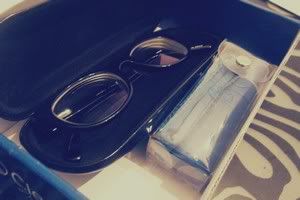 At checkout I used coupon code: FIRSTPAIRFREECA and only paid a bit off the lenses plus shipping and handling fees. I ended up paying $34.95 which is much less then what I paid for my usual glasses ($199).
As for the quality of the eyeglasses: well, the frame is not the best quality, the plastic feels a little cheap. Plus, even though I keyed in my right prescriptions, my vision is having a hard time adjusting to the lenses. However, for the price I paid, the speed of the shipping and the items that I received, I believe that this is a great service! I will definitively consider buying some of my contact lenses from this website as well.