Hi loves,
Last week I got a package of wonderful things that I ordered from
Sa Sa
and I'm very excited to review all these products
.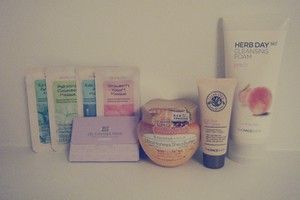 For those of you that don't know what Sa Sa is, well it's a leading cosmetics retail group in Asia. It's based in Hong Kong and offers a range of Asian brands such as cosmetics and beauty products. They carry skincare, makeup, hair products, body care products and even health supplements. They have retail locations in Asia but you can also order their products from their online website. The company's vision is to be a "one-stop" store for beauty related products.
The first items that I bought were 4 SKINLITE face masks. This is a Korean beauty brand.I got the Relax Soothing Aloe, Hydrating Cucumber, Re-Energizing Green Tea and Strawberry Yogurt. I have only used the Aloe and Green Tea masks so far, but for the value I think it's a steal. First of all, there's enough in the package to last atleast 2 or 3 applications and the scents and texture of the mask is very fresh and soothing and was not sticky or heavy. I didn't really see a different with a skin after, but atleast it wasn't dry or oily and I didn't break out. I think these masks are mostly meant for a nice soothing application. Each mask (10g) cost me $1 each. I can't wait to try the Cucumber and Strawberry Yogurt masks.
The next item is a hair mask that Suzi from StyleSuzi
recommended in one of her videos. It's the RICH PREMIER Ultra Honey Hair Mask from the Japanese brand ESSENTIAL. At first I didn't care much for the scent of this product. Although smelling true to the package, like honey, I wasn't completely sold by it. However, after using it in the shower I really like the way your hair feels after using it. You can skip the conditioner after your shampoo and just use the hair mask as a hair treatment and you're good to go. Also, the price range is quite similar to other hair treatments so all in all I would recommend this product. The company also sells another version of this which I believe smells differently as well. I might give this other product a try when I make a new order. This hair mask cost me $9.60 at checkout for a 200g container.
Next up is a pack of oil-blotting paper with powder-coating by the Japanese brand HAKUGEN. I already use this type of product so I decided to test another brand to compare. I really love to use oil-blotting paper sheets in the summer when my skin gets oilier. I like that the HAKUGEN paper had a powder coating that didn't smell like much and left your skin feeling matte and refreshed. I don't have anything specifically amazing to say about this product in particular, I thought it was good, especially for the price, but it's not necessarily something that I would re-purchase. The 70 piece pack cost me $2.10 at checkout.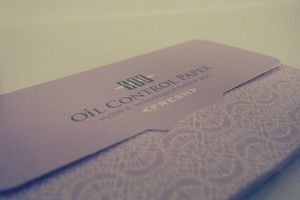 The next two products are both from the Korean beauty brand The Face Shop. The first product is the HERB DAY 365 Peach Cleansing Foam. I bought this product because it was fairly inexpensive and also because I had heard of The Face Shop before but had never tried any of their products. I originally wanted to go with the Lemon scented one but it was sold out so I settled for the Peach one instead. Let me just say that it smells true to the label and I love the fact that it's not too fragrant but just right. Also, you only need a dime size amount of this cleanser to foam on your face, this way the bottle with last for a long time. The only bad thing I would have to say about this product is that my skin felt a little dry more like a firm feeling, after using this cleanser. However, using a toning lotion after cleansing (which I normally do anyways), fixes this feeling. I bought the cleanser (170ml) for $4.50.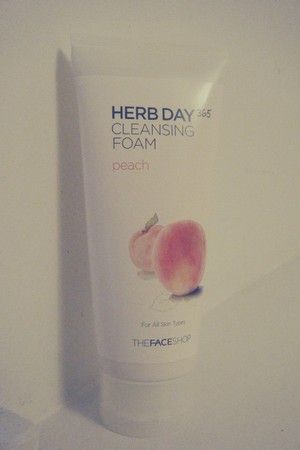 The next product from The Face Shop is the CLEAN FACE Oil Free BB Cream. I've heard alot of great things from BB creams, but I had never actually tried one. I read a couple reviews about how great SKIN79's BB creams are but they weren't on sale so I decided to try The Face Shop's instead. The size of the packaging was alright although I was expecting a little larger sized tube/bottle. This cream goes on really dark at first on my fair skin but blends in really well with your skin tone and I didn't notice any weird foundation lines either, which is a plus. The label says that the cream is infused with a pleasant camomile scent that you can definitely smell when you apply the cream. It's however a nice scent and doesn't smell chemically. I would need to try another brand to be able to choose a favorite but I think for the price you get quite good value in this BB cream and would recommend it to try. The 35g tube cost me $10.10 at checkout.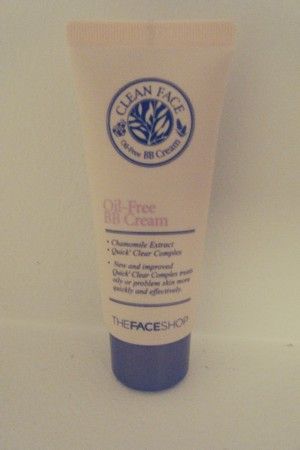 I've never bought anything from their online store but I have read about other people's experiences and decided to place an order when they were offering free international shipping near the end of June. At checkout, I paid $30.30 and bought 8 items so I'm really happy with the value and thought the shipping time was reasonable considering it was free and was coming all the way from Hong Kong. On top of that it was so well packed with a bunch load of packing peanuts and plastic that I doubt that any products get damaged during shipment, so I was impressed with that as well.
As a final note, I was quite pleased with my first experience with Sa Sa and will definitely place another order sometime to try various other products. I always hear nice things about Asian brands and I was very pleased to like the quality of the products that I bought.
Till next time,
xo J