Hi loves,
I'm on a break between my two Thursday classes and so I've decided to update my blog with a end of summer haul from Sasa. As I have explained in a previous blog spot: Sasa is a Hong Kong based store that also ships internationally. I often take advantage of their free international shipping events because otherwise I'd be paying as much as my purchase just for the shipping! Now, I usually spend about $30 dollars everytime I make an order which gets me a good amount of items. I like trying out Asian beauty products because I've always heard since things about them. This time I also ordered some products from a French skincare brand.
So this is what I got: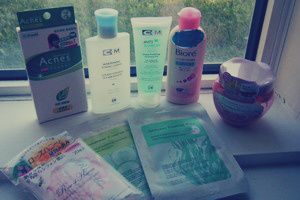 The first item is ESSENTIAL'S
NUANCE AIRY Ultra Honey Hair Mask
. It's a Japanese brand that sells haircare products. I've already tried the RICH PREMIER hair mask with is made with sunflower oil instead of the wild rose essence which is in the NUANCE AIRY mask. It's formulated with honey and milk protein to help protect and strengthen hair. It's a great product with dry hair, split ends or just to treat your hair every now and then. The added shea butter helps to moisturize the hair and make it smooth while the wild rose essence helps to protect it to keep it soft. Overall I'm very pleased with this product as it does exactly what it promises to do. Which is also why I repurchased this in another scent and probably will keep repurchasing it. It sells for $9.40 on Sasa.
Next are two skincare products from a French skincare line called C+M. I've never tried products from this brand before and Sasa was having an amazing sale on their products so I decided to get a couple to try. The first one is the
Anti-Blemish 3 in 1 Deep Purifying Cleansing Gel
. I got this cleansing gel because it was super inexpensive ($2.50!!) and I thought it would be nice to use in the shower. To my surprise it's been a great cleanser so far. It foams up really easily and as I thought it would be, it is great to use in the shower. It's formulated with natural glycerin and witch hazel which helps to cleanse pores and to purify the skin. This cleanser also promises to helps excess sebum, dirt and old skin cells that are on your face. It also promises to fight against new breakouts. I am quite pleased with this product and will probably repurchase this when I run out.
The next product is the
Whitening Toning Lotion.
It's a mild toner that's made for sensitive skin. It helps to moisturize, whiten and tone the skin while removing residues. It's formulated with arbutin (helps to whiten the skin), portulaca oleracea extract (nourishes the skin), sodium hyaluronate (hydrates) and dipottaisum glycyrrhizate (hydrates). I have to admit that I haven't tried this product yet because I have too many other toners on the go at the moment. But I am expecting good things from this because I already like the cleanser. It sells for $2.90 on Sasa.
The next product is the Japanese brand KOSE's
ROSE OF HEAVEN Fragrance Blotting Paper.
I LOVE using blotting paper to help remove the excess oil on my face and have heard nice things about the scent of the ROSE OF HEAVEN line so I thought I'd give these a try. First off, the sheets are a little bigger than usual blotting paper sheets which I loved. Also, the scent of roses is fragrant but also subtle. It sells for $4.90 on Sasa.
Next is the Mentholatum
ACNES Nose Pore Strip.
After trying a Biore pore strip from one of my Glossyboxes I thought I'd order some while I was making an order on Sasa. I came across these which are reasonably priced ($4.40 for 10 strips), so I decided to give them a try. These nose pore strips are formulated with tea tree oil and is great for acne prone skin. My issue is more so for blemishes for acne but I bought these to help remove blackheads. I've used a good 3 or 4 so far and really like the feel of my skin after I remove them. I do see a difference around my nose area. I'm quite pleased with these nose pore strips and would recommend them to people with oily or combination skin.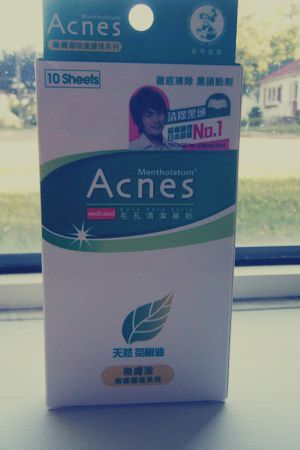 The last two products are two face masks from SKINLITE. One is the
PAPER MASK Seaweed Essence Mask
and the other is the
MASK Cucumber Essence Mask
which are basically the same product with two different base ingredients. The seaweed mask is infused with seaweed extract, vitamin E and collagen which helps to revitalize the skin cells and to keep your skin fresh and healthy. The cucumber mask is formulated with licorice root and portulaca extract, vitamin B and phyto collagen. These ingredients helps to moisturize and improve the skin. I've used SKINLITE masks before but not the ones that apply to your face. I found these to be very soothing and perfect to use after a long day. These were selling for 2/$1.90 which is amazing. I will definitively purchased more of these when I make my next order!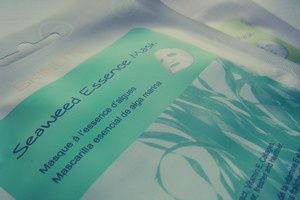 Well that's it!! I always get excited when I order things from Sasa because I am usually pleased with everything I buy even if I have never tried the brand or product before.
If you're interested in ordering anything from their website, look out for their free international shipping promotions which they often have!
Sasa website
Have a good weekend everyone!
xo
J